B01-Ⅱ
B01-Ⅱ:Development of X-ray imaging polarimeter for exploring magnetic structure of neutron stars
Neutron stars(NSs) are the densest matter in the universe. Although NSs possess strong magnetic field (>1013G), its origin and detailed structure are unsolved. Imaging of polarization vector of X-ray pulsars would explore the internal structure of NSs.
The aim of our research is to develop the X-ray imaging polarimeter with high time resolution utilizing good energy resolution and spatial resolution.
Direct measurement of the charge cloud shape produced inside a detector is the key. A novel multi-collimator is introduced in order to examine the charge cloud measurement up to 20keV. We will perform experiments to measure the charge cloud for various energies of polarized X-rays. The charge cloud would be elongated along the track of a photoelectron path for a polarized photon.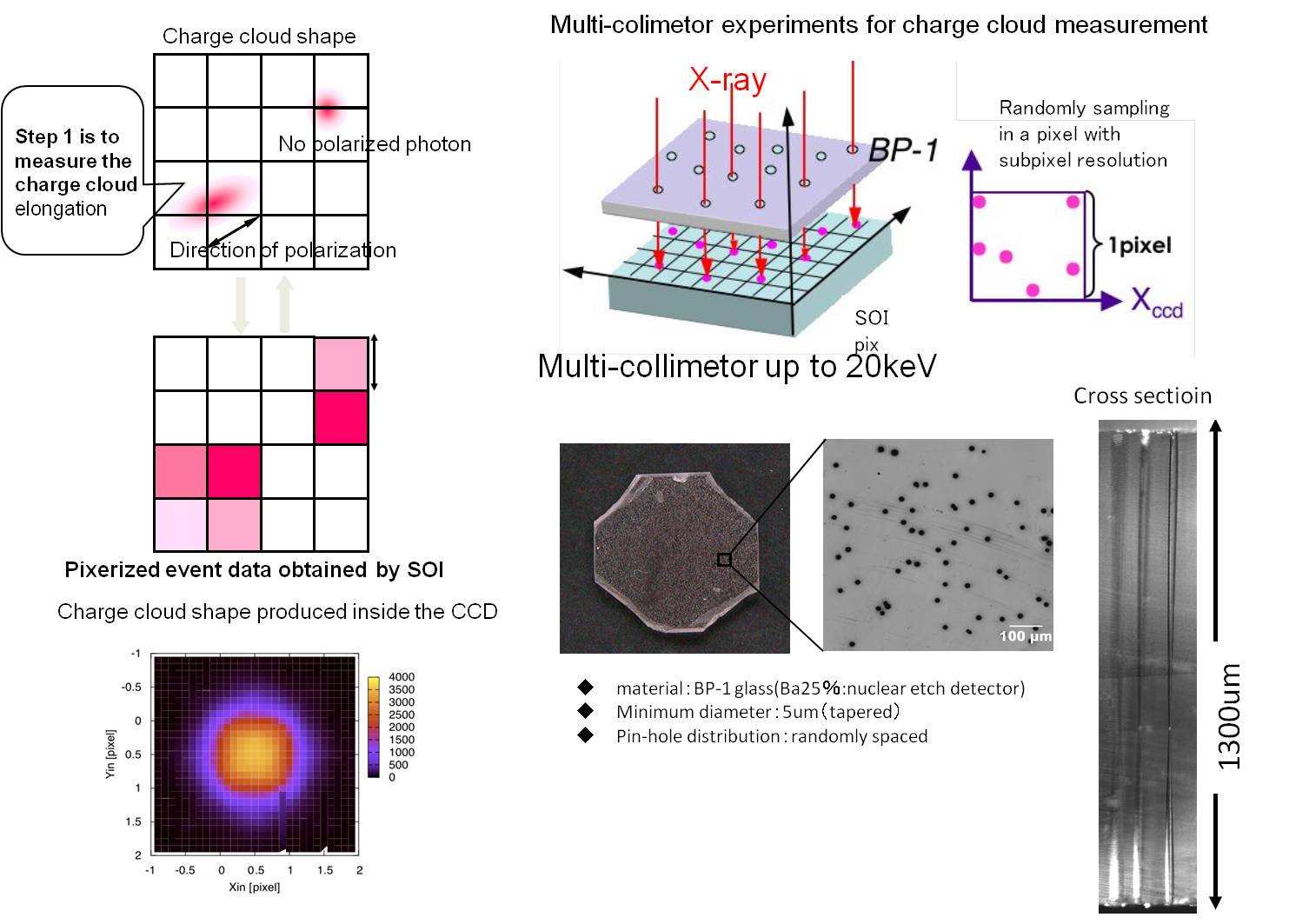 Member
Principal Investigator:Junko S. Hiraga
University of Tokyo
Research Center for the Early Universe(RESCEU)
Graduate School of Science
Assistant professor
Publications
K. Makishima, T. Enoto, J.S.Hiraga, T. Nakano, K. Nakazawa, S. Sakuai, M.Sasano, and H.Murakami, Physical Review Letters, Volume 112, Issue 17, id.171102, (2014) "Possible Evidence for Free Precession of a Strongly Magnetized Neutron Star in the Magnetar 4U 0142+61"
J. S. Hiraga, S. Nakamura, Y. Uchida, M. Kikuchi, S. Kurata , Y. Ozaki, S. Kurata,S. Kamada, T. Takashima, Y. Uchihori, H. Kitamura and H. Tawara Nucl. Instrum. and Meth., A573, 236-239, (2007), "A novel multi-collimator using BP-1 glass and application for X-ray CCDs"